Being member of a model railway club, I was asked if I could make a 3D design of an existing iron construction situated in Westerlo, Belgium.
We rebuild the centre of the village in scale 1:87 (HO). At that period (1913) there was still a steam and diesel tram railway.
This iron construction was a central eye-catcher on the village square.
It supported a typical tree 'een lindeboom' (or a lime tree if I can believe google translator 🙂 ) found in many villages in my region. So also the village Westerlo did have his specimen.
More information and photographs : https://www.mscdekempen.be (dutch site).
Search on Westerlo.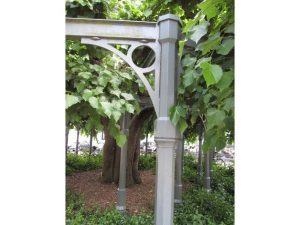 Meer info op: Model_making__poles_in_scale_187